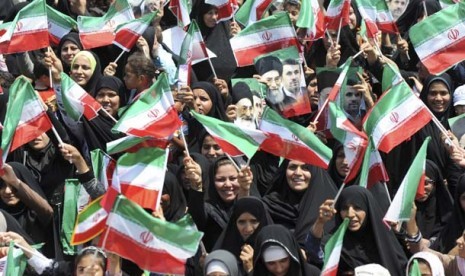 POLITIK, Tidak bisa dibantah lagi sekarang di kawasan Timur Tengah yang sebelumnya berada di bawah bayangan dominasi "Si kembar"Paman Sam -Ben Gureon,kini secara bertahap mulai berubah bayangan tersebut semakin digantikan oleh Iran,kekuatan baru yang menjadi saingan utama Washington dan Tel Aviv.
Untuk itu Paman Sam dan ponakannya Ben Gureoun dengan sekuat tenaganya berupaya maksimal untuk menghentikan kemajuan Iran,karena dikawasan itu hanya Iranlah sebagai penyaing utama atas dominasi Paman Sam -Ben Goreoun (AS-Israel).Baik AS maupun Israel senantiasa berupaya untuk menghancurkan Iran,melalui perang Cyber sedang gencar dilakukan dengan mengirimkan virus Cyber untuk merusak sistem komputerisasi situs-situs nuklir Iran.
Koalisi Washington-Tel Aviv coba menyerang situs nuklir dan industri perminyakan Iran dengan virus Cyber Stuxnet dan Flame ,tetapi Iran mampu mengatasinya sebagaimana juga mampu membongkar jaringan intelijen CIA,Mossad dan mengadili para agen mata-mata tersebut.Tel Aviv melalui tangan gurita Zionis Internasionalnya mampu mengendalikan jaringan intelijen AS CIA dan M 16 (Inggris)dan diarahkan semuanya kepada upaya penghancuran Iran.
Sejak tahun 2010 sampai sekarang koalisi CIA-Mossad telah membunuh beberapa pakar nuklir Iran,serta berhasil pula meledakkan beberapa fasilitas militer Iran,seiring dengan pengetatan embago ekonomi,politik terhadap negara para mullah tersebut.Tetapi bangsa Parsia bukanlah bangsa yang menyerah begitu saja kepada intimidasi itu,namun sebaliknya rasa nasionalismenya semakin kokoh yang diterjemahkannya kedalam penguasaan berbagai teknologi canggih modern.
Sebagai ekses dari ancaman serangan militer asing,terutama Israel ataupun AS sehingga menggiring Iran kepada penguasaan teknologi militer yang sangat pesat.Berbagai jajaran pengawal revolusi Iran mengalami kemajuan pesat dalam bidang yang satu ini,para ilmuwan militer Iran mampu menguasai teknologi rudal , kapal selam ,satelit dan mampu juga mengadopsi teknologi pesawat tanpa awak ,serta juga teknologi Cyber War.
Menurut laporan The Washington Post ,AS memiliki angkatan perang terkuat didunia saat ini yang mampu secara simultan menghadapi ancaman serangan darat,laut,udara dan bawah air sekalipun.Hal itu tidak diragukan lagi,tetapi menurut pakar militer AS yang tidak mau disebutkan idetitasnya(karena pertimbangan keamanannya )mempertanyakan kebijakan pengerahan kapal perang mahal AL AS ke Teluk Parsia .Dalam konteks ini mengingatkan institusi pertahan AS dalam menghadapi kebangkitan kekuatan militer Iran, yang dikaji oleh para pakar militer AS sudah berkembang pesat itu. Menurut kajian mereka,bahwa sekarang Iran mampu melancarkan balasan secara massal sebagai reaksi serangan massal ,karena Iran memiliki strategi khusus di Teluk dan Selat Hourmuz.
Kekuatan militer Iran sebagaimana diperlihatkan dalam berbagai latihan di Teluk hingga Hourmuz memang tidak bisa dipandang sebelah mata,karena mereka memiliki rudal dari berbagai jenis dengan beragam pula jangkauannya(jarak pendek,menengah,jarak jauh).Selain itu Iran memiliki kapal-kapal selam mii dan kapal -kapal peranag kecil yang bersenjata berat dengan daya jelajahnya sangat cepat itu tentu akan menyulitkan AL AS dan sekutunya.
Menurut para pakar militer itu pula,bahwa kendati kapal perang baru AS memiliki sistem pertahanan ganda seperti pelindung rudal Aegis,akan tetapi Iran mampu menetralisirnya teknologi itu dengan kemampuan untuk menghadapi serangan dari berbagai arah dengan satu tindakan saja.Iran kini tidak hanya tergantung kepada peluncur-peluncur rudal balistiknya saja,tetapi angkatan bersenjata Iran juga memiliki Helikopter tempur,kapal selam mini dan juga kapal-kapal kecil bersenjata berat yang sangat lincah gerakanannya,ujara laporan The Washington Post tersebut.
Hal seperti itu sangat delematis bagi Paman Sam,karena ketika berbagai kapal perang mahal AS berada di kawasan Selat Hourmuz hingga mereka amat rentan diserang oleh Iran.Sebaliknya sekiranya AL AS tidak berada disana,maka negara -negara Arab sekutunya merasa tidak akan nyaman karena merasa dibawah bayangan ancaman Iran.Dan sekarangpun mereka sudah merasa sangat rentan,ujar pakar militer yang enggan menyebutkan identasnya tersebut.Iran memang mimpi buruk bagi AS ,karenanya lebih baik soal itu bisa diselesaikan secara damai dan mengutamakan dialog .
Sumber : http://politik.kompasiana.com/2012/07/28/iran-kekuatan-baru-timur-tengahmimpi-buruk-bagi-si-kembar-as-zionis-israel/